Downtown Racine is an artsy, historic, lakefront town. Small enough that we know our neighbors and big enough to boast an amazing history that we build on today. From an unbelievable selection of locally owned restaurants (Asian, Pakistani, Spanish, Italian, Mexican, Thai, Cajun) plus good old-fashioned pub food, farm to table, and fish fries! From the largest beach on this side of Lake Michigan, cool Frank Lloyd Wright and other architecture, plus North America's largest craft art collection at the Racine Art Museum; you can quickly fill a day, weekend—or week—exploring this town!
Events in Downtown Racine, WI
Upcoming Events
List of Events
Join us for a practitioner-filled day of mini-Reiki sessions and mini-readings! We will follow you on your fool's journey as you try one or several sessions! Services are $20 each, paid directly to the practitioner. Cash or card accepted. There's no need for you to sign up. All sessions are FCFS. However, you are welcome to lounge in our lobby or group room while you wait for your session! Light refreshments will also be served! So, come on by and…
Angels, Angels, Angels are everywhere! Let's connect with them! In this class, led by Holy Fire Reiki MT, Kathy Feiner, You will learn who the major Angels are and how to call them in to be with us whenever we need them. It will be an engaging class, full of fun and connection. The class finishes with a beautiful meditation where you will float away to the clouds with your Angel guides, filled with love and peace.
Join us for a night of witchy crafting and connecting. In this class, we will be making a spiritual bath mixture. The art of sacred bathing has been around for centuries, and it has been seen throughout history as a spiritual and cleansing experience. In this class, Reiki Teacher, Dreams Ramirez, will discuss the history, the practice, and the importance of spiritual bathing. You will create your own spiritual bath mixture to take home with a ritual to put into…
+ Export Events
Sign Up to Receive Our Newsletter
Download our Mobile App
Available for Apple and Android
Search RACINE DOWNTOWN in the App Store
App Features
Easily search for businesses
Check out latest events
Find parking nearby
Custom notifications from your favorite shops & restaurants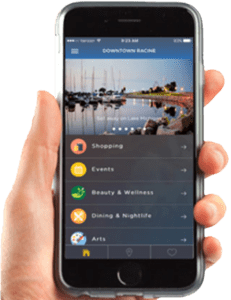 Sign Up to Receive Text Alerts